Papua Adventure Tours & Travel
(The right company for your Leisure and Adventures)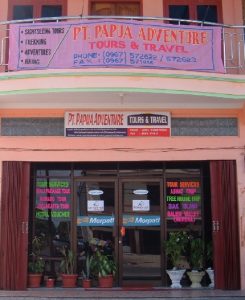 It is great pleasure to introduce you our company "PT. PAPUA ADVENTURE TOURS & TRAVEL" one of the potential tour operator / travel agent of Irian Jaya (Papua). Papua Adventure Tours & Travel, organize Leisure and Adventure trip in Indonesia (Specialist of East Indonesia-Papua). We offer you a variety of trips throughout Papua including but not limited to, Hiking – Trekking – Adventures – Sightseeing – Bird watching – Diving-snorkeling, Fishing trip and cultural journeys are our characters. We handle Group and FIT with regular incentive tour itineraries and selective tours of consistently high standard. Our aim to become the leading travel company for high quality, tailor made Papua Adventure to exotic destinations, where it is difficult to travel on your own.
All of our trips experienced staffs and knowledgeable guide beyond Papua (Irian Jaya) along with mutual services is our priority. Papua is a fantastic island with great history and beautiful landscapes.
While our management and operations team comes from diverse backgrounds including strategy consulting, travel management, and economic litigation consulting, the one common characteristic we share is a love and passion for travel. For more information, details of itineraries and competitive rates, please feel free to contact us at any time.
Papua Adventure Tours & Travel is working under legal company with the Government Tourism license No. 503/05 and has been a full member of ASITA (The Association of Indonesia Tours & Travel Agencies) with No.034 /XXV/DPP/2006.
How to contact us:
Papua Adventure Tours & Travel
Jln. Raya Sentani – Waena, No 20, Jayapura.
PAPUA – INDONESIA
Phone: (+62-967) 5170084, 572622, Fax: (+62-967) 571816
Mobile: (+62) 812 480 2972 & (+62) 813 4462 8586
E-mail: info@papuaadventure.com
Papua Adventure Tours & Travel
(Baliem Valley Branch Office)
Jln. Trikora Wamena – Papua
E-mail: travel@papuaadventure.com
Papua Adventure Tours & Travel
Jln. Remu Sorong (Raja Ampat Package)
West Papua
E-mail: rajaampat@papuaholidays.com
Hours of operation from 08.00am – 05.00pm Monday to Saturday
Contact person:
Mr. Iwanta Perangin-angin (Director)
Mr. Sisca (Sales & Marketing)
FOR TRAVEL AGENT / VISITORS:
If you are travel agent / visitors that would like to learn more about PAPUA ADVENTURE TOURS or personalized assistance to develop suggested itineraries or you don't find what you are looking for, you just simply advise us what you would most like to do and see and we prepare itineraries for you to consider. And if you have urgent inquiries or emergency after hours, please be freely to contact thru mobile phone with Number: 08124802972 (24 hours).